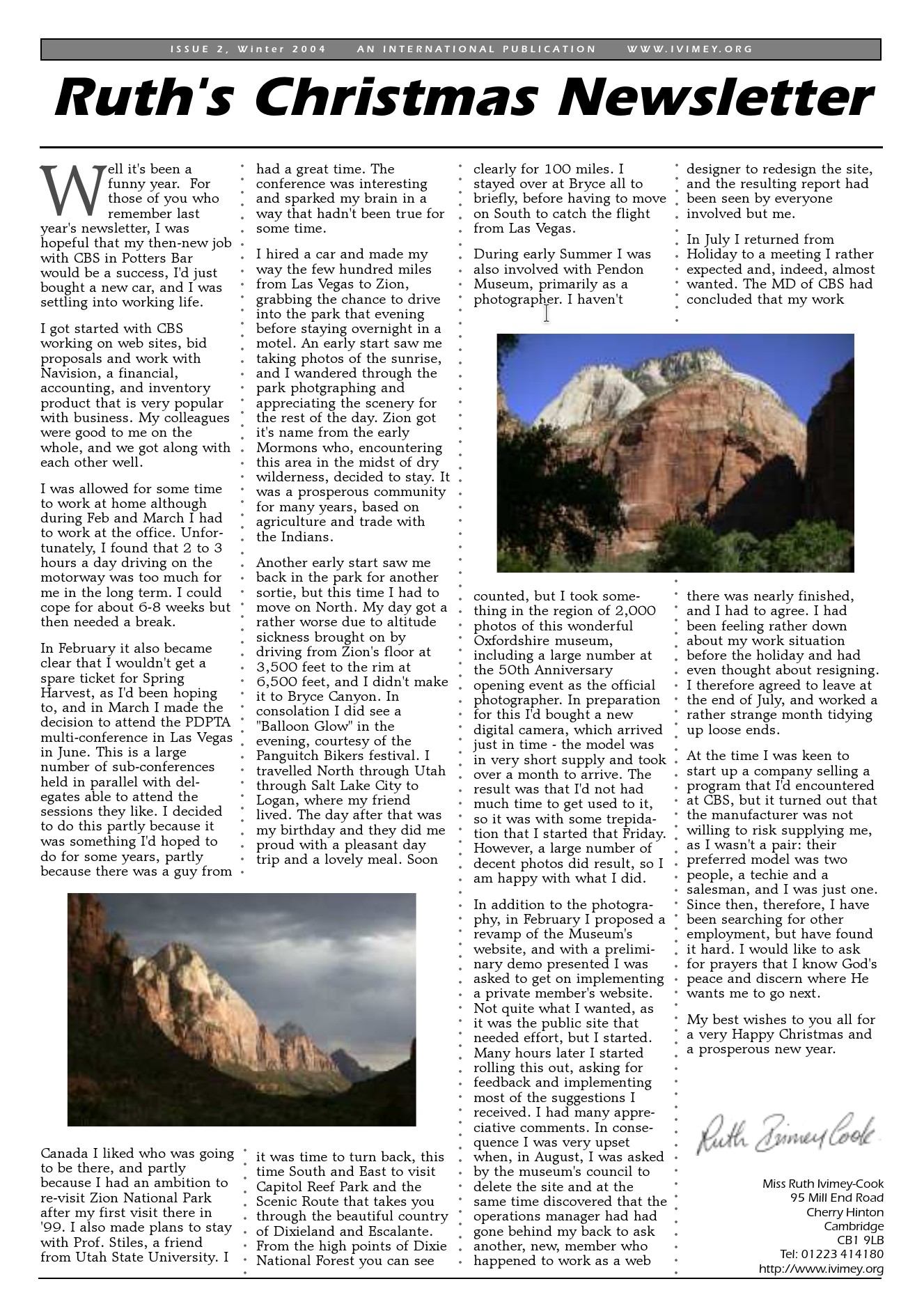 Well it's been a funny year. For those of you who remember last year's newsletter, I was hopeful that my then-new job with CBS in Potters Bar would be a success, I'd just bought a new car, and I was settling into working life.
I got started with CBS working on web sites, bid proposals and work with Navision, a financial, accounting, and inventory product that is very popular with business. My colleagues were good to me on the whole, and we got along with each other well.
I was allowed for some time to work at home although during Feb and March I had to work at the office. Unfortunately, I found that 2 to 3 hours a day driving on the motorway was too much for me in the long term. I could cope for about 6-8 weeks but then needed a break.
In February it also became clear that I wouldn't get a spare ticket for Spring Harvest, as I'd been hoping to, and in March I made the decision to attend the PDPTA multi-conference in Las Vegas in June. This is a large number of sub-conferences held in parallel with delegates able to attend the sessions they like. I decided to do this partly because it was something I'd hoped to do for some years, partly because there was a guy from Canada I liked who was going to be there, and partly because I had an ambition to re-visit Zion National Park after my first visit there in '99. I also made plans to stay with Prof. Stiles, a friend from Utah State University. I had a great time. The conference was interesting and sparked my brain in a way that hadn't been true for some time.
I hired a car and made my way the few hundred miles from Las Vegas to Zion, grabbing the chance to drive into the park that evening before staying overnight in a motel. An early start saw me taking photos of the sunrise, and I wandered through the park photgraphing and appreciating the scenery for the rest of the day. Zion got it's name from the early Mormons who, encountering this area in the midst of dry wilderness, decided to stay. It was a prosperous community for many years, based on agriculture and trade with the Indians.
Another early start saw me back in the park for another sortie, but this time I had to move on North. My day got a rather worse due to altitude sickness brought on by driving from Zion's floor at 3,500 feet to the rim at 6,500 feet, and I didn't make it to Bryce Canyon. In consolation I did see a "Balloon Glow" in the evening, courtesy of the Panguitch Bikers festival. I traveled North through Utah through Salt Lake City to Logan, where my friend lived. The day after that was my birthday and they did me proud with a pleasant day trip and a lovely meal. Soon it was time to turn back, this time South and East to visit Capitol Reef Park and the Scenic Route that takes you through the beautiful country of Dixieland and Escalante. From the high points of Dixie National Forest you can see clearly for 100 miles. I stayed over at Bryce all to briefly, before having to move on South to catch the flight from Las Vegas. During early Summer I was also involved with Pendon Museum, primarily as a photographer. I haven't counted, but I took something in the region of 2,000 photos of this wonderful Oxfordshire museum, including a large number at the 50th Anniversary opening event as the official photographer. In preparation for this I'd bought a new digital camera, which arrived just in time - the model was in very short supply and took over a month to arrive. The result was that I'd not had much time to get used to it, so it was with some trepidation that I started that Friday. However, a large number of decent photos did result, so I am happy with what I did.
In addition to the photography, in February I proposed a revamp of the Museum's website, and with a preliminary demo presented I was asked to get on implementing a private member's website. Not quite what I wanted, as it was the public site that needed effort, but I started. Many hours later I started rolling this out, asking for feedback and implementing most of the suggestions I received. I had many appreciative comments. In consequence I was very upset when, in August, I was asked by the museum's council to delete the site and at the same time discovered that the operations manager had had gone behind my back to ask another, new, member who happened to work as a web designer to redesign the site, and the resulting report had been seen by everyone involved but me. In July I returned from Holiday to a meeting I rather expected and, indeed, almost wanted. The MD of CBS had concluded that my work there was nearly finished, and I had to agree. I had been feeling rather down about my work situation before the holiday and had even thought about resigning. I therefore agreed to leave at the end of July, and worked a rather strange month tidying up loose ends.
At the time I was keen to start up a company selling a program that I'd encountered at CBS, but it turned out that the manufacturer was not willing to risk supplying me, as I wasn't a pair: their preferred model was two people, a techie and a salesman, and I was just one. Since then, therefore, I have been searching for other employment, but have found it hard. I would like to ask for prayers that I know God's peace and discern where He wants me to go next.
My best wishes to you all for a very Happy Christmas and a prosperous new year.