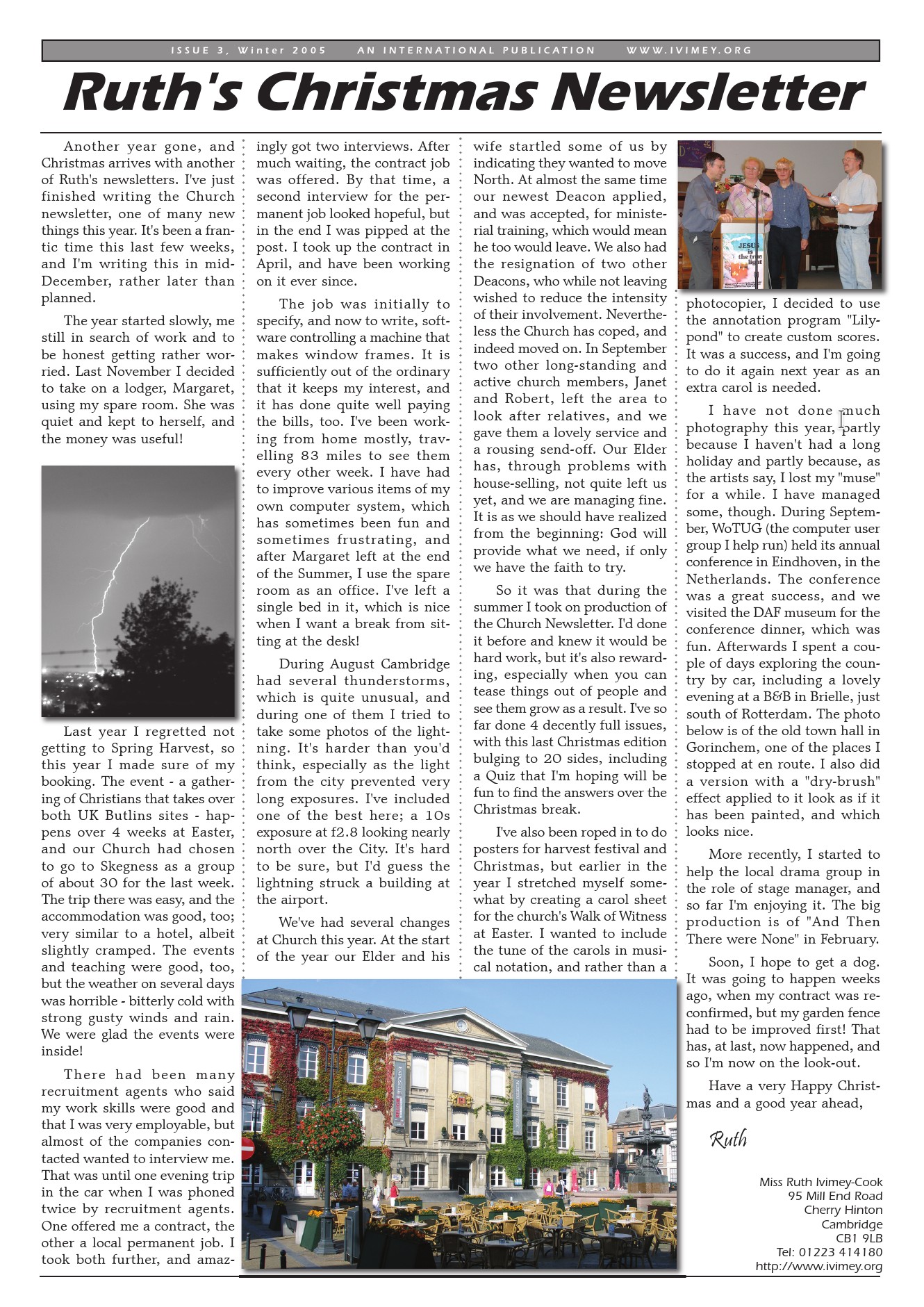 Another year gone, and Christmas arrives with another of Ruth's newsletters. I've just finished writing the Church newsletter, one of many new things this year. It's been a frantic time this last few weeks, and I'm writing this in mid-December, rather later than planned.
The year started slowly, me still in search of work and to be honest getting rather worried. Last November I decided to take on a lodger, Margaret, using my spare room. She was quiet and kept to herself, and the money was useful!
Last year I regretted not getting to Spring Harvest, so this year I made sure of my booking. The event - a gathering of Christians that takes over both UK Butlins sites - happens over 4 weeks at Easter, and our Church had chosen to go to Skegness as a group of about 30 for the last week. The trip there was easy, and the accommodation was good, too; very similar to a hotel, albeit slightly cramped. The events and teaching were good, too, but the weather on several days was horrible - bitterly cold with strong gusty winds and rain. We were glad the events were inside!
There had been many recruitment agents who said my work skills were good and that I was very employable, but almost of the companies contacted wanted to interview me. That was until one evening trip in the car when I was phoned twice by recruitment agents. One offered me a contract, the other a local permanent job. I took both further, and amazingly got two interviews. After much waiting, the contract job was offered. By that time, a second interview for the permanent job looked hopeful, but in the end I was pipped at the post. I took up the contract in April, and have been working on it ever since.
The job was initially to specify, and now to write, software controlling a machine that makes window frames. It is sufficiently out of the ordinary that it keeps my interest, and it has done quite well paying the bills, too. I've been working from home mostly, traveling 83 miles to see them every other week. I have had to improve various items of my own computer system, which has sometimes been fun and sometimes frustrating, and after Margaret left at the end of the Summer, I use the spare room as an office. I've left a single bed in it, which is nice when I want a break from sitting at the desk!
During August Cambridge had several thunderstorms, which is quite unusual, and during one of them I tried to take some photos of the lightning. It's harder than you'd think, especially as the light from the city prevented very long exposures. I've included one of the best here; a 10s exposure at f2.8 looking nearly north over the City. It's hard to be sure, but I'd guess the lightning struck a building at the airport.
We've had several changes at Church this year. At the start of the year our Elder and his wife startled some of us by indicating they wanted to move North. At almost the same time our newest Deacon applied, and was accepted, for ministerial training, which would mean he too would leave. We also had the resignation of two other Deacons, who while not leaving wished to reduce the intensity of their involvement. Nevertheless the Church has coped, and indeed moved on. In September two other long-standing and active church members, Janet and Robert, left the area to look after relatives, and we gave them a lovely service and a rousing send-off. Our Elder has, through problems with house-selling, not quite left us yet, and we are managing fine. It is as we should have realized from the beginning: God will provide what we need, if only we have the faith to try.
So it was that during the summer I took on production of the Church Newsletter. I'd done it before and knew it would be hard work, but it's also rewarding, especially when you can tease things out of people and see them grow as a result. I've so far done 4 decently full issues, with this last Christmas edition bulging to 20 sides, including a Quiz that I'm hoping will be fun to find the answers over the Christmas break.
I've also been roped in to do posters for harvest festival and Christmas, but earlier in the year I stretched myself somewhat by creating a carol sheet for the church's Walk of Witness at Easter. I wanted to include the tune of the carols in musical notation, and rather than a photocopier, I decided to use the annotation program "Lilypond" to create custom scores. It was a success, and I'm going to do it again next year as an extra carol is needed.
I have not done much photography this year, partly because I haven't had a long holiday and partly because, as the artists say, I lost my "muse" for a while. I have managed some, though. During September, WoTUG (the computer user group I help run) held its annual conference in Eindhoven, in the Netherlands. The conference was a great success, and we visited the DAF museum for the conference dinner, which was fun. Afterwards I spent a couple of days exploring the country by car, including a lovely evening at a B&B in Brielle, just south of Rotterdam. The photo below is of the old town hall in Gorinchem, one of the places I stopped at en route. I also did a version with a "dry-brush" effect applied to it look as if it has been painted, and which looks nice.
More recently, I started to help the local drama group in the role of stage manager, and so far I'm enjoying it. The big production is of "And Then There were None" in February.
Soon, I hope to get a dog. It was going to happen weeks ago, when my contract was re-confirmed, but my garden fence had to be improved first! That has, at last, now happened, and so I'm now on the look-out.
Have a very Happy Christmas and a good year ahead, Ruth